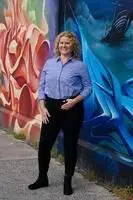 Land Acknowledgment
Nan Keyser Psychotherapy office space is on sacred land that we acknowledge as the territory of the Huron-Wendat and Petun First Nations, the Seneca, and most recently, the Mississaugas of the Credit River. It is still the home of the Indigenous peoples of Turtle Island, and I are grateful to be working in the community on this territory. This land is part of the Dish With One Spoon Wampum Belt Covenant, a treaty between the Iroquois Confederacy and Confederacy of the Ojibwe and allied nations.
My Experience & Credentials:
I have practiced as a counselor for over 20 years, honing expertise in trauma, couple, grief/bereavement, and body-centered therapies. I support people living with anxiety and depression, relationship challenges, disordered eating and body image issues, oppression, violence, abuse, emotional distress and high levels of stress. I work with a wide range of clients - in their adolescent to elder years - that reflects the cultural, racial, sexual and gender diversity of Toronto, and I am committed to providing nonjudgmental and anti-oppressive, LGBT2SQI-positive therapy.
I possess a Master's of Education in Counselling Psychology, which I achieved while studying at University of Toronto/OISE. I am an accredited registered psychotherapist (RP) and a clinical member of the Ontario Society of Psychotherapists. I have also pursued additional training at and certificates/degrees at the University of Toronto/UT, Sensorimotor Psychotherapy for the Treatment Of Trauma, the Adler Institute for trauma training, and I seek out ongoing training in couple therapy and EFT (Emotionally Focused Couple Therapy). I worked as an intern/therapist-in-training at Women's College Hospital with women experiencing eating disorders, and The Multicultural Women Against Rape/Rape Crisis Centre,The Centre for Mental Health and Addiction, and The Integral Healing Arts Centre in bioenergetic therapy. I consider myself a lifelong learner and am constantly engaged in new training programs and ongoing personal and professional development. Recent additions to professional development include: Embodying Social Justice (2019), Internal Family Systems: Treating Relational and Complex Trauma (2019), Foundations for Transpositive Counselling (2019) and San'yas Indigenous Cultural Safety Training (2020).

Over the years, my work has been featured in Now Magazine, The Globe and Mail, Vitality Magazine, CIUT radio, and the Ontario Society of Psychotherapist's magazine, PrOSPect.
Why I Do & Love This Work:
Sometimes people ask me why I would want to be a therapist or wonder if it is hard to hear people's problems all the time. For me, psychotherapy is a highly rewarding profession and I am honored to witness the counselling process unfold and to support others in creating positive change, living their authentic lives, and easing some of their suffering. It is a joy for me to help clients identify their unique strengths, explore their dreams, expand on their coping tools, cultivate enhanced inner resilience, create more life balance, and nourish more positive and connected relationships: ultimately, to live happier, healthier lives and communities.
When asked as a child, "what do you want to be when you grow up?" I always felt drawn to the helping professions and knew that I wanted to be a counsellor. I am so grateful to now work in my chosen profession. My therapeutic approach provides compassion, understanding, support and practical feedback to help clients effectively address personal life challenges and achieve their personal growth goals. Clients give me feedback that they appreciate my open-mindedness, caring presence, and ability to combine practical clinical tools and the opportunity to explore themselves and their challenges in a mindful, curious, and self-loving way. I integrate complementary therapies to offer a highly personalized approach tailored to each client/couple, and I deeply enjoy this work.
In the past ten years, I have developed a personal and professional interest in learning deeply about relationship, attachment, intimacy, and the dynamics that foster connection. In particular, I support couples in healing attachment injury, infidelity, and unhealthy conflict patterns: it is very rewarding to see them learn to create safer, more intimate, and loving bonds with each other.
Want to Learn More? Some of My Core Values, Interests and Influences:
I have long been committed to social justice and my anti-oppression approach stems back to my volunteer work in shelters and university studies in psychology, sociology, and women's studies (now called gender and equity studies). I wrote an award-winning thesis that won the Toronto Women's Bookstore Scholarship, and I was invited to lecture to gender and psychology students. I am actively anti-racist and learning about how to be an ally and challenging my privilege is important to me and informs my counselling stance.
I am a proponent of the 'health at every size movement,' and I provide encouragement to people of all shapes, abilities, and sizes to cultivate a positive relationship with their bodies, feel more at home in their bodies, and experience a more peaceful and healthy relationship with food/eating. For eight years, with Erica Ross, I co-facilitated a signature expressive arts groups at Sheena's Place (Toronto-based support centre for people with disordered eating and body image issues).
I have a passion for bringing the healing arts into community. As a co-founder of Dance Our Way Home , Expressive Healing , and The Move weekly dance gatherings, and as a trained yoga instructor, I have facilitated groups and workshops at retreat centres, yoga studios, George Brown College, University of Toronto, The Toronto Board of Education, Choice in Health Clinic, community centres, and social service agencies. I am also a referral therapist for The Assaulted Women's Helpline (AWHL) and The National Eating Disorders Info Centre (NEDIC).
In terms of my personal interests, I enjoy being in nature, travelling from time to time, and read fiction, non-fiction and poetry. I appreciate the beauty and wonder in everyday moments.
I am a parent who lives in the Toronto Junction area.
Unsure About Counselling? Let's Connect:
I would be glad to answer any questions you might have about counselling. While for some people, coming to therapy feels like a relief, for many others, reaching out for this kind of support may feel scary, overwhelming, or vulnerable. I would like to make the experience as comfortable as possible for you. Please contact me for a free phone consult to discuss the counselling process.